Ch Sesukan Chin Panzee
"Panzee Precious"
Sire: Grand CH Mingdon Hashi Moto
Dam: Ch Sunhaven Zena
Whelped: 18 March 2003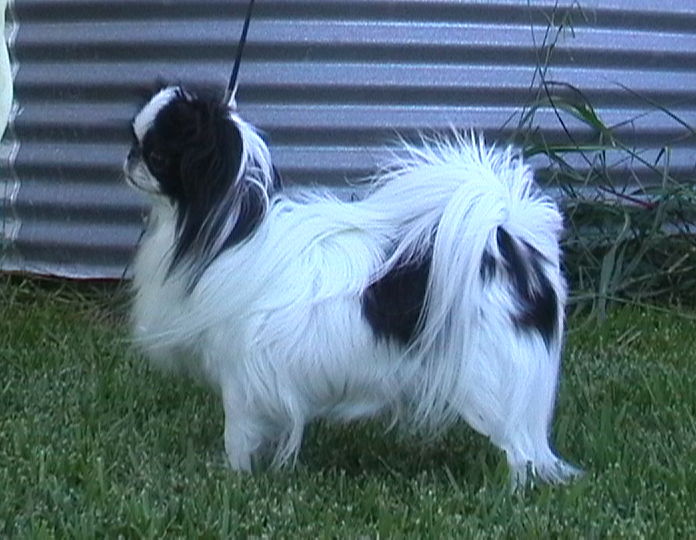 "Panzee' is the light of our life - she is so full of it - life that is. From our first litter of Japanese Chin she got off to not the best start in life with pneumonia as a 2 week old baby. Many hours were spent saving this little girl and we could never part with our "Precious".

From her first day at a dog show she loved it and amused others with her ring antics (some were not amused as "Panzee" bounded all around the ring), luckily as she got older she decided to play show dogs and behave herself BUT as those who know her she is still prone to playing "mad idiots" in the ring where she leaps and bounds around. When she shows she is divine to watch. She moves well and has a wonderful coat. She has had a lot of compliments from various judges as to her correct size and her outgoing nature - shy and reserved she is NOT!!!

At 2 years "Panzee" weights 2.2 kilos so a small dainty Chin in every sense of the word. "Panzee" is now retired but occasionally will be out for Veterans Class.

She won Bitch Challenge and Runner up Best of Breed at Toowoomba Royal in 2004 and in 2005 Toowoomba Royal she won Bitch Challenge and Runner up Best of Breed. She has many Best of Breeds and Class in Group.

"Panzee" is an absolute delight to know and be owned by.
Pedigree

Parents
GrandParents
GreatGrandParents
SIRE

DAM